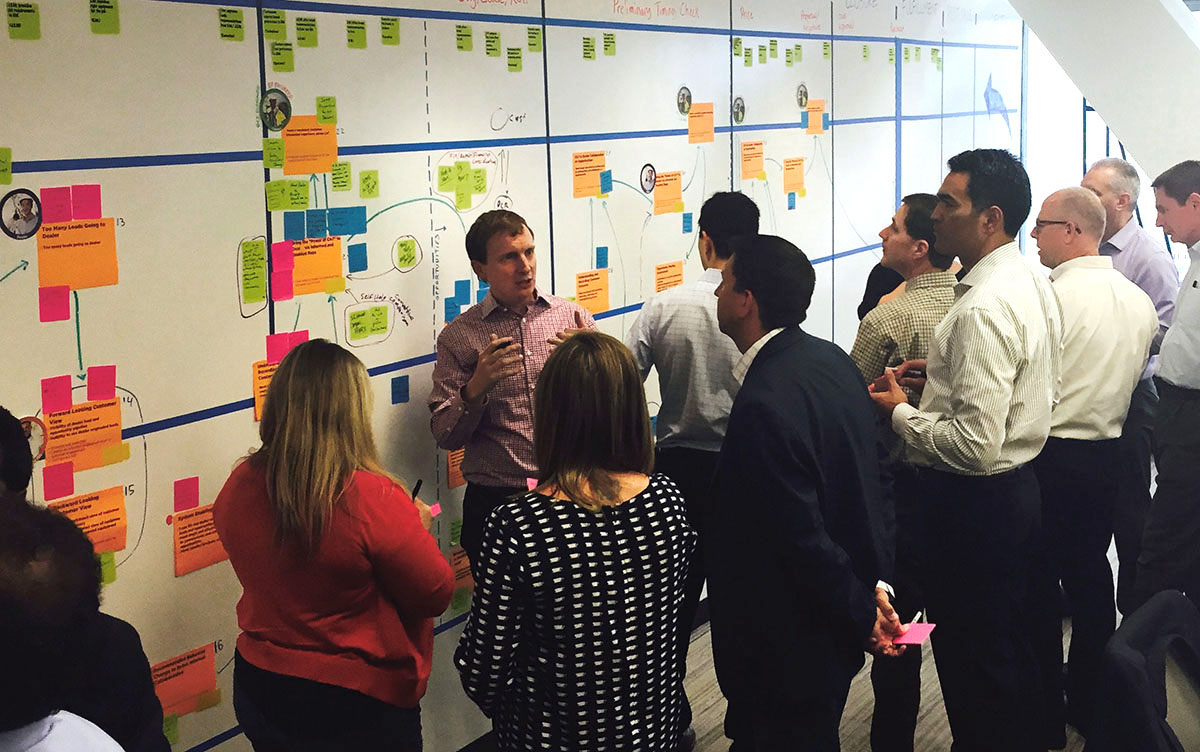 Brief:
What is your biggest gap in customer expectations? Customer experiences (CX) have become a new battleground for companies, with increased opportunities in this changing economy. With certifications in organizational CX transformation, I bring two decades of successful executive buy-in from a collaborative, metric led strategy - including service design with United Airlines, Marriott, Wells Fargo, and Samsung.  With a passion for continuous feedback, I bridge agency marketing with fourteen years of collaborative, product strategy within digital transformation pursuits.
I thrive blueprinting enterprise end-to-end experiences with customer research, quant. metrics and collaborative workshops. This includes mapping business strategy intelligence to customer journey gaps and ROI metrics. The results deliver rich digital experiences aligned to business OKR/KPI measurements.
TESTIMONIAL:
"This (Caterpillar) was a pioneering and complex effort…the CRM work to fundamentally change how we develop the strategies and design around delivering CRM.  I was impressed by the passion, proactive engagement, creativity in developing the integrated methodology that Josh brought forward. Furthermore, Josh did an excellent job in collaborating with Caterpillar to socialize and gain buy-in on the outcomes.
Lastly, Josh is instrumental in converting this to a new way of doing business as we shift the development of technology platforms that are business and customer focused by integrating creativity into the traditional way we do this work. The intent is to institutionalize this work going forward. We are already starting to engage at Marriott for the $7M work we just sold by leveraging this engagement."
- N. Jain, Managing Director, Accenture Strategy
Recent CX/UX Team Leadership Achievements:
• CRM Strategy:  2.8M global, multiple BU SFDC integration strategy major construction/power gen.
• SFDC Customer Experience:  1.9M global agent app design (42M users); largest global hospitality
• PLM Change management:  Negotiated 30M change mgmt. analysis; global equipment supplier
• Delivery:  E2E Architecture for global 2.7M Financial Insurer across multiple corporate verticals
• Customer Care:  2.7M B2C call-center sales and management redesign; major NA insurance
• Architecture Integration:  E2E 3.2M site architecture for multi-state content; major NA utility merger
• Customer Account:  3.7M tollway customer account (16M users) redesign; strategy to design deliver
• Business Alignment:  720K customer procurement strategy experience of a global chemical corp.
• Order Management: 620K global steel B2B SFDC with complex production, delivery schedules
• E-Commerce:  complex 2.8M e-comm. site redesign spanning research to delivery; global steel co.
• CX Integration: Unified 3.8M IA/CS, UI patterns across integrated web/in-store P.O.S.; global telecom
• Leadership:  major 1.2M pharma business employee portal, complex research and data visualization
Global 100 Industry Delivered Solutions:
Financial Services · Hospitality/Travel · Insurance · Energy · Utilities · Consumer Products · Manufacturing 
· Telecommunications · Pharma/Biotechnology · Government · Retail · Information Technology
Proven Customer/User Experience methods:
Business/Stakeholder Interviews · Business Strategy Planning · User Research Quant/Qual · 
Information Architecture · Card Sorting · Service Design Research · Service Design Blueprints · Task 
Flows · User Stories · User Journeys · Business Case Studies · Art of Possible · Best Practices · 
Sketching · Rapid Prototyping · Wireframing · Visual Design Ideation · Pattern Libraries · User Testing/ 
Validation · Visual Design · Requirements Mapping · Annotated Wireframing · Pattern/UI Specifications
Agile Project Management: 
Responsive Design · HTML5 · CSS3 · JS/Javascript · Mobile · Salesforce/ 
CRM · CMS · Pattern Libraries · UAT · Mobile · Wearables · Rapid Prototyping · QA · Usability W3C · A/B Testing
Advanced Toolset Expertise:
Adobe Creative Suite: Photoshop · Dreamweaver · Illustrator · Muse · After Effects · 
InDesign · Axure · Omnigraffle · InVision · MS Office: Word/Excel/Powerpoint · Visio · Project Pro Android/ 
Eclipse and iOS (iPhone, iPad) Xcode UI Pattern Frameworks · Windows · Apple OSX · Google Docs · 3D 
Sketchup · Lego Serious Play (Project Discovery/Planning) · Optimal Sort
Analytics:

 Google Adwords, Twitter, Linkedin, Facebook, Streaming Media
Service Design:

  Makeshop 3D Print · VR/Zero UI · Arduino Makeshop Automation / SmartThings / IoT
Strategic, Design Delivery:
     •  Marriott
     •  Samsung
     •  Caterpillar
     •  Dow Chemical
     •  Exxon Mobile
     •  T-Mobile
     •  HP
     •  Prudential
     •  Telstra
     •  Travelers Insurance
     •  Gerdau
     •  Illinois Tollway
     •  First Data/Citibank
     •  Merck IT
     •  Merck A&R Research
     •  Duke Energy
     •  CenterPoint Energy Site
     •  CenterPoint Energy Customer Support
     •  US Mint
     •  PNNL
     •  State Farm
     •  Luxottica/Lenscrafters In-Store P.O.S.